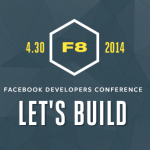 It's an event which takes place every year, Facebook F8.  It's exclusively for developers to stay up to date with everything that is currently happening at Facebook HQ and what we can expect to see from them over the coming 12 months.  This years event took place earlier this week with some quite interesting announcements, most of which centre around mobile.  Here's a roundup of the biggest news.
Anonymous Login
This will allow people to login to applications through Facebook, but decide what personal information they share with developers.  This range of information that can be submitted ranges from all to some to none.  I can see this feature being very popular, especially with people who don't want to put the time into creating individual accounts for every app they use, but don't want to share all of their information with developers.
Stability Guarantee
This is something which general users won't be too fussed about, but developers like us are particularly interested in.  This guarantee means that any updates made to Facebooks API will come with support for two years for previous versions.  Something which will be vitally important for all apps developed using Facebook from now on.
App Links
A system which will make linking between applications simple.  This appears to not be a part of Facebook's social element, but instead it's wider business model and application development tools.
Facebook Dialogue
Letting people share links and messages through native apps to the Facebook Messenger app.
Like Button
Allowing people to Like individual pages within applications, something I'm surprised has never been available before.
FbStart
This isn't so much a product, but a service to help developers get their app ideas off the ground.  Through providing free access to tools to selected companies, it looks like Facebook is trying to "give back" to the app development marketplace.
There were other updates, but these are just the ones we found the most interesting.  It'll be really interesting to see what else comes from Facebook over the coming months and exactly how developers and app users interact with some of these new tools.