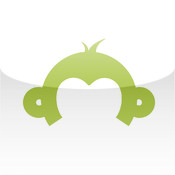 This week we're taking a look at the first app from a company who've been around for quite a while now.  It's from data capture form building company, Survey Monkey and it's for letting you create and distribute surveys from your mobile devices.  
If you've ever used a survey builder platform before you'll know exactly what you're doing with the Survey Monkey app.  First off, you need to create an account with them or you can login to your existing one if you've already used the platform before.  Once you're in you can start building surveys straight away using their really easy to use editor.  You have the choice of either multiple choice, dropdown, comment box, image or add a text description.  Questions can be added either all to a single page or you can split them up into a number of different pages if it makes things easier.
Once you've finished building the survey you can send it via a number of different methods (social, email, copy link or text) then analyze the results using the built in tool.  One criticism I would make here though is you don't get the option to have the survey live on the screen, say for example you wanted to ask people in the street what they thought – you can't do it inside the application.
There's a limit on what you can do with a free account, a maximum of 10 questions and 150 responses.  If you need more than this, you can upgrade to a paid account for £19.99 a month or £199.99 for a year, the monthly package limiting you to 1000 responses, the annual one giving you unlimited usage.  Other premium account features include pro templates and the ability to add your company logo to surveys you build.
Aside from my one little criticism of the Survey Monkey app, I'd recommend it for anyone looking to build their own surveys.  Being able to ask people questions with the app open in front of you is quite a niche request and the high levels of functionality of the pro account, along with the really simple UI make this a great tool for anyone who needs to build surveys on the go.