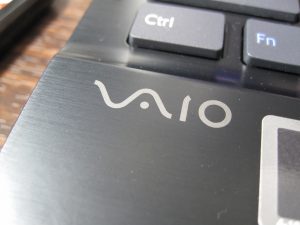 Considering we're a mobile app development firm, you may think it's a bit weird how we're taking a look at something which is decidedly old-school.  Laptops? Who uses laptops these days? Well as it turns out 316 million people last year bought a personal computer (that's laptops and towers) which is 10% less people than the year before.  Today though Sony announced that it was selling off it's Vaio brand, one that has been with us since the early 90's.
Although we use Macs in the Tradebox office, we have an old Sony Vaio laptop in the cupboard which is regularly pulled out for any Windows work that needs doing and I've still got one at home that gets used every now and then.  Despite this affection towards these devices we're not really surprise that Sony has decided to ditch the brand altogether, and here's why.
As I pointed out at the start of this post, laptop sales are in decline, tablets are decisively making their ascent in the portable device marketplace and the old, bulky laptops are becoming seen as old tech. That's not to say that in the workplace PCs aren't still essential (for now), but for home use and people who work on the road or from coffee shops, carrying around a laptop which can weigh more and take up more space just isn't something they want to do when considering the comparative cost of a tablet.
One interesting point to think about is, if Windows 8 had been better received – would laptop sales be declining as rapidly as they are?  People were presented with the option of buying a new laptop with an operating system which was widely criticised; or an iPad which was often complimented on how easy it was to use for roughly the same price.  From the looks of it people decided to switch to tablets.
I don't think this decision is an indication of Sony being in any financial trouble.  It just looks like they've just chosen to jump ship at the opportune moment.  It will be interesting to see what, if any, gap this leaves in the market and what loyal Vaio users will switch to – another laptop, a MacBook Pro or a tablet?