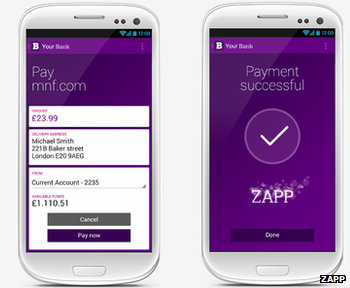 Mobile payments are a thing which has always struggled to take off.  It could be because people are set in their ways and generally don't like change, contactless payment has had quite a slow take-up and that by all accounts is simpler and easier than traditional payment methods.  Convincing people that they should pay with their mobile phone is something so completely revolutionary that it's probably no surprise it's taken a while to gather any interest.  This latest development could change this though, it's called Zapp and is being developed by Vocalink (the operator of the UK national payments infrastructure).
Vocalink have already signed up HSBC, Santander, First Direct and Nationwide as well as other leading high-street banks; this will mean that more than a third of UK current account holders will be able to use it to pay directly from their bank accounts without cash or card.  It works by producing a unique code for each transaction made and will be integrated into the banks own apps, increasing awareness of the brand and chances of people trusting the system.  The app will show you how much money is (or isn't) in your account before each transaction, something which will possibly curb peoples overspending habits.
There are already mobile wallet systems in limited use in the UK at the moment, Visa and Barclays have one, as does Google and some phone network providers.  Where Zapp is likely to succeed over all of these however is that it has the widest appeal so far.  These mobile payment systems will never work unless both consumers and shops sign up.  Shops would have been hesitant so far as it will involve buying new equipment to take these transactions, and if no consumer is using the system because no shops have the equipment yet, it goes in a vicious cycle.
From the sounds of it Zapp will allow everyone who currently uses mobile banking to make mobile transactions, which will  hopefully break the cycle of one waiting for the other to start.
The app is due to launch September – October time this year.  If shops get the terminals in place in time, this could be an interesting technology to watch when it comes to spending in the run up to the Christmas break.  If they don't, this could prove to be yet another exciting new technology which gets left by the wayside.