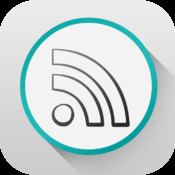 It's been six months since Google shut down its Reader service (at the time we took a look at the top five Google Reader replacements), a few new alternatives have popped up during the last half a year but today we're taking a look at probably the most simplistic one we've seen yet.  Terrible name aside, Feeed's ticks all the boxes you really want an RSS reader app to tick – it's really easy to read and easy to set up, plus looks quite swish.  
As soon as you download and set it up you'll see exactly what I mean, coming with nine feeds already set up (Mashable, Gizmodo, MacRumors, Tuaw, Wired, Makeuseof, Lifehacker, TechCrunch and WPCentral) a quick flick through any one of them will show you how swish the interface is.  Tiles fly in from the left hand side of the screen as you scroll down and load with an image, the title and a the publication date on each story.  Once you open up each story the text is presented at a really decent size with the option to share via Facebook and Twitter clearly presented at the bottom of the page.
To view the full list of Feeds you've subscribed to then a simple swipe right will bring up a sidebar.  To remove any feeds you're not interested in any more, a swipe to the left will delete it from the list.  At the bottom of this sidebar is a tool to add another feed, you just need the web address of the site and the name, Feeed will automatically find the RSS feed information for you.
There's not a lot more to say really, the biggest selling point of Feeed is its simplicity.  If you're looking for a really slick RSS reader app that does just that, you should take a look at Feeed, it's free to download and use (a small banner ad sits at the bottom of the page) and couldn't be easier to set up.