In a report published Wednesday by Consumer Intelligence Research Partners (CIRP), Facebook was found to be the most popular app by more than three times any other app.  The report looks at 500 smartphone users in the US, who were asked what their three most commonly used apps were between June and September of this year.
An almost staggering 45% of people said that Facebook was their most used app, with Twitter coming in second with 13%.  The only two games that made it into the list were Candy Crush Saga (11%) and Angry Birds (6%).  The only other social network to make it into the list was Instagram with 8% and the only shopping app was Amazon with 7%
A separate graph was also released to show 'top app producers', despite Google making five appearances in the top 12 with the Google App, Chrome, Google Maps YouTube and Gmail they only made it to second place with 28% of people putting Google apps in their top three.  Facebook topped this again with 54% of people listing Facebook and Instagram in their top three.  Third place was taken by Twitter and fourth by Candy Crush developer, King.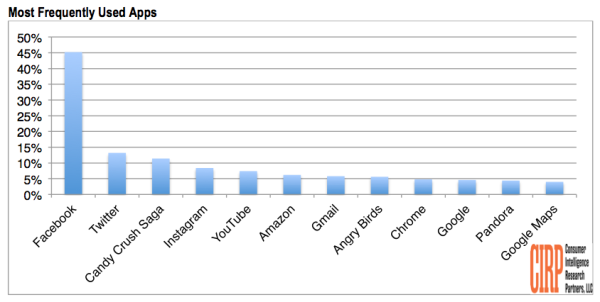 Some quite speculative insights could be made into these figures, but without knowing some finer details it can be quite hard to ascertain any real information.  For example the presence of Google Maps and the lack of Apple Maps could mean that a lot of people in the survey were Android users and very few were iOS users, or it could mean that more people than previously thought are moving away from the default iPhone mapping system and getting Google Maps back.
What is quite interesting is that only two games made it into the top 12, showing that more people are inclined to use their phones for productive and social purposes than playing games.  It's also quite interesting to see Amazon in the list but no eBay, the platform I would have thought would have been more popular on mobile due to the interactive nature of the bidding process.
Photo via:    Johan Larsson