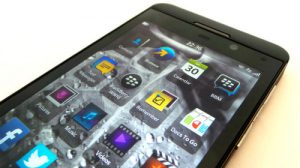 Just over a month ago we talked about BlackBerry putting themselves up for sale after their latest incarnation of the BlackBerry operating system BB10 failed to impress either consumers or investors.  On Friday 20th September, the struggling company announced that they were going to be laying off 4,500 staff worldwide, causing the stock price to fall sharply and many people to think that the once pioneer of cutting-edge technology, wasn't going to be around for too much longer.  Today however, there may a light at the end of the tunnel for the Canadian firm, stockholder Fairfax International have made a tentative offer to buyout the company for $4.7bn.
Although the news of the BlackBerry sale is great for it's staff and customers, it's not all rosy just yet.  The deal is dependent on Fairfax going through BlackBerry's confidential financial documents before any final offer is made.  This is to make sure they are not going to be stepping on any unexpected financial landmines by taking the company over, so it's entirely possible the deal couldn't happen. The tentative nature of this offer means that BlackBerry are free to go for a better deal if one comes along, Fairfax are also then free to match it.
The question on everyone's lips now is – what does this mean for BlackBerry?  Unfortunately, no one can know for sure.  The news of the buyout hasn't changed the company's decision to lay off a third of their staff worldwide and they are still ceasing sales of new models to consumers, writing off a large amount of their stock.  However this buyout may mean a change of direction for the company, something radical to try and bring customers back to BlackBerry.
One thing I can see them doing is scrapping BB10 and releasing a whole new range of handsets that use Windows or Android.  The long delays and poor reception of BB10 are really what tipped the company over the edge so ceasing their software efforts and focusing on hardware could be the best way forward.
It could take until the end of the year for this deal with Fairfax to finalise.  In the meantime though the tech world will certainly be watching to see what happens next to BlackBerry.