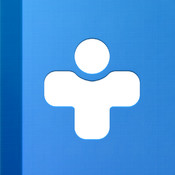 Our app of the week is Contacts+, an app which is looking to replace the Apple standard contact list.  This may seem a bit pointless to some people, I was a little bit weary when I first heard about it, but now I've downloaded it and given it a test, you can instantly see the benefit.
The first thing you notice about contacts + is how much nicer it looks than the standard contact list app, pictures display above each contact in a grid as standard, but this can be changed to a listview if you prefer. It's laid out really well and doesn't look at all cluttered as some contact list apps can do. The app will ask you to sync with Facebook at launch and use your friends profile photos, you can choose your own though if you have a particular photo you'd like to use.
Contacts can be arranged by groups, which is one feature that is sorely missed from the standard iOS contacts app. It can also organise them by most frequently used contacts, putting the people you interact with the most at the top of the page. You can of course search for contacts as well making it easy to find anyone, even if you can't remember what group you put them in. All of the information you add to Contacts+ is automatically synced with the standard contact app, so any backups of contacts with the cloud will stay current.
Possibly the best feature is how it integrates with Facebook, Twitter and LinkedIn though. From each of your contacts you can view exactly what they have been posting on each of the social networks. It's all very well laid out and easy to navigate, making it so much simpler than flicking between different apps to see what someone has been up to. This does need a bit of tweaking however, the integration isn't quite as seamless as I would like it to be, but this is something that I'm sure will be fixed in future updates.
Overall this is a brilliant app, I've never been a fan of changing things too much with the standard features of the iPhone (things like downloading a new keyboard have never really been a high priority) but this is such a good addition, I really think it's a worthy replacement of the standard contact list app. Plus it's free to download, which is always a good thing.