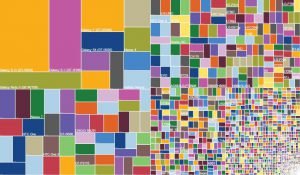 In a report published by OpenSignal.com, it has emerged that Android fragmentation has increased almost threefold in comparison to this time last year. The report took into consideration devices, manufacturers, operating systems and screen sizes, all of which are showing more diversity than in previous years.
This massive fragmentation of Android devices is causing increasing number of headaches for developers. For every app that is developed, it has to be tested and optimised for each device and version of the operating system (OS) it is released for. With Apple this is easy, there are 4 different devices and 2 versions of iOS. With Android however, the figure stands at 11,868 different devices and 8 versions of the Android OS currently in use. This can sometimes lead to a poor user experience for customers on a less popular Android device and OS version as more time will inevitably have been put into making sure the app works most effectively on the more popular devices.
It's not all bad news though, Samuel Johnson from Open Signal notes "Despite the problems, fragmentation also has a great number of benefits for both developers and users, the availability of cheap Android phones (rarely running the most recent version) means that they have a much greater global reach than iOS, so app developers have a wider audience to build for. It may be tricky to do, but the potential reward definitely makes it worthwhile. For consumers, extreme fragmentation means that they can get exactly the phone they want , big or small, cheap or expensive, with any number of different feature combinations."
There is a lot of information detailed in the report, over 682,000 devices were used in the survey to gather all of this information. As well as showing the fragmentation in the Android world, it also highlighted quite an interesting point – the rise of Samsung and the decline of HTC. At the same time as the once most popular manufacturer of Android announcing the expect to make their first ever loss, this report shows Samsung now having an almost 50% share of the market and HTC having an almost insignificant 3.9%. This could be the start of the end for the Taiwanese smartphone maker, especially after their latest bold venture, the HTC First (which integrated Facebook into the home screen of the phone) was dropped after a couple of weeks by American phone giant AT&T because of poor sales.